i find grocery shopping to be rather exciting if i'm with someone. otherwise, it's completely boring when i'm alone. after putting it off for quite some time, i finally took a trip to my local kroger. i love kroger most for it's organic section, where i usually buy frozen pasta meals and burritos. my regular items consist of plenty of vegetables, grapes, romaine lettuce and things for salad, dried vegetable chips, humus and wholegrain pita, and salmon.
when my apartment isn't filled with groceries i end up consuming way too much taco bell. so you can see why i'm exceptionally motivated to improve my diet after i've gone grocery shopping. here is what i ate for lunch recently.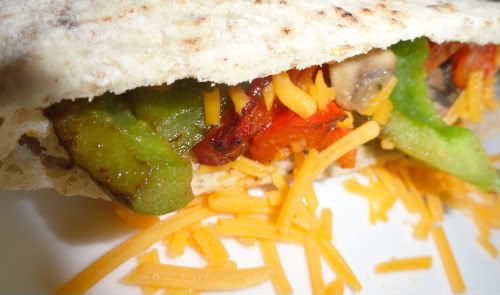 grilled mushrooms, onions, green and red peppers on a whole wheat pita pocket with shredded cheddar. mmm! i definitely forgot to add sundried tomatoes, which would have made the mix that much more delicious.
only on rare occasion do i feel like cooking, so i love healthy meals that are quick and easy to prepare. please share if you have an idea for a simple, healthy dish!